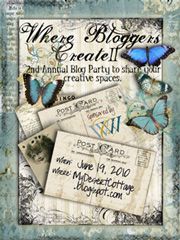 I am so excited to view all of your special creative spaces and I am especially drawn to the little treasures that make your rooms yours. I am the one peering in drawers and peeking behind doors. Curious about cubbies? Me too! So using this Book of Inspiration


as my book of inspiration, I thought I would show you a few vignettes or pieces in my room that are special to me. I am not a crafter really. I don't sew or quilt. I guess I would say that I am a putterer. Yes. I like to putter. First I must tell you that my room is not large. Maybe 9x10. It was attic storage space before I had the builder finish it out. It has strange little attic corners and angles but for me, that only adds to its charm. Please come in and look around.
This is my inspiration board. I got it at Ballard's.



The green cubby drawers below it I ordered from Pottery Barn Teen, on sale! I bought 3 of them and store all kinds of teeny tinies in those cute liitle drawers.



This is a little step ladder I use as a table. It was in my youngest daughter's nursery so it is of sentimental value. I love that it's so portable! The little nightlight is from ,the now gone out of business, Bombay Kid's. Remember them? I loved that store.




an old printer's drawer now stamp storage.



Remember, I told you this is an attic space? Here is the dormer that I turned into a window seat.



I still love the fabric. I wanted to use it in my daughter's room but she was not havin' it. Her loss, my gain.LOL!



This is my favorite thing in the room. My coatrack turned giftwrap center. This has been a real workhorse. I wish you could see it at Christmas. It is simply loaded down but it works so well at keeping all my giftwrap stuff in one area. It sits between 2 small closets that I painted with chalkboard paint.



Thank you so much for coming over! And much thanks to Karen for hosting such a fun blog party! Remember to