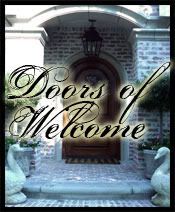 Thanks to Karen at Some Days Are Diamonds for hosting this fun bloggy block party!

I thought I'd let you Blog Friends come in through the side porch.



It's still pumpkin time around House Hospitable!



We've had such lovely Fall weather that the lantana is still thriving.I snipped a few sprigs to share with you.



Remember this guy from the rooster party?



This chick keeps him company.



So glad you Sweet Friends could come visit!