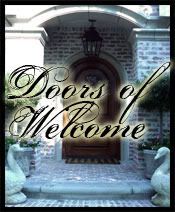 Oodles of love to Dearheart Karen of Some Days Are Diamonds for hosting this fun bloggy block party!

Welcome to my porch!



This is a sweet spot to sit or for the UPS man to leave my packages.:)



How did this guy miss Barb's Rooster party? I think he was hiding by the pool.



How 'bout a little pumpkin parade?



I love candy corn!



A pretty autumnal (I've always wanted to say that!) wreath!



Thanks for stopping by you Fabulous Fall-lovin' Friends!