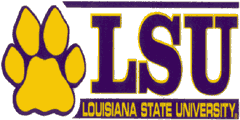 ...Because it's everything Bama isn't
Better than Tulane
a Southerner's Dream and a Northerner's Wish
The pride and joy of the great state of Louisiana
Mike the Tiger
I bleed purple and gold
Tiger Stadium on a Saturday Night
Ole Miss's worst nightmare
and a place that can get in your blood and stay forever.




Kindred Spirits,by now you've probably guessed that I've been in Baton Rouge,partaking of the shrine that is LSU.(Orientation for Mr. LSU) Established in 1860 LSU's hallowed grounds speak of another era, while top notch educators and state of the art facilities help to propel young men and women into their destinies.




You can not visit LSU without stopping by to visit Mike, The Tiger. This is , after all, Tiger Territory! Geaux Tigers!




It is reported that once upon a time, LSU's in-state rival Tulane University kidnapped Mike and painted him Green Wave Green. Oh My Goodness!
Speaking of Tulane, we had to make a pit stop in NOLA to see the Grad-Student who just returned from a mission trip to Kenya.




Well, KS, how is your summer going?