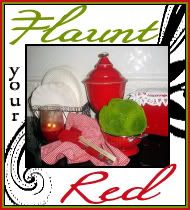 Let's see...What red do I have to wear this summer? How 'bout this jacket? I have a pleated denim skirt that I like to pair it with.




This is my favorite summer skirt. It's a cotton voile, with an asymmetrical hemline and little bronze-y sequins scattered around.I sometimes wear a linen shirt with it, but I especially like to wear a short denim jacket over a red tank with it.




This is the workhorse of my red, summer wardrobe. A Ralph Lauren red, linen, polka dot shirt. It's great with white capri pants or a denim skirt or just plain ole' jeans.Yes, I do own a iron, in case you were wondering. I just hadn't got around to THIS yet.




Of course, I've got some strappy red sandals.




Thanks to Miss Nancy at Southern Lady
for hosting Flaunt Your Red!