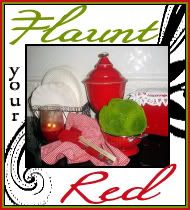 I'm back ya'll! Just in time to Flaunt My Red!So here we go...This is a mah-jongg game box that sits on my living room mantle. No. I do NOT play mah-jongg. My sister plays. My neighbor plays. But I do not play. I can not get them to teach me to play. They say they do not have enough life span left to teach me. I do not seem to have the gene necessary to play mah-jongg. I am missing the mah-jongg gene. But I DO have the game, with all the lovely tiles in a pretty red box.




A red heart candle in my powder room.




This is a tassel I bought one year at the Junior League of Plano's 'Neath the Wreath annual Christmas Bazaar. I had to have that little polka dot chicken!




A beautifully illustrated copy of Black Beauty belonging to one of my girls.




My favorite summer purse. It is several years old but I still enjoy carrying it.




Thanks to Stacey at Poofing the Pillows
for hosting this month's Flaunt Your Red!