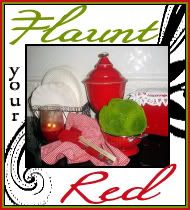 Thank goodness for friends,Kindred Spirits, or I don't think I could join in the Flaunt Your Red fun! I regret to inform you that I have no red. Well nothing I want to photograph. But Linda Lou sure does and with 1 phone call I was set! How 'bout this cute red egg plate next to this handsome rooster?




I love this red flower against the blue and white vase.




And my favorite! This adorable red dollhouse, which she decorates for Christmas just like her real house!




Thanks to our gracious host Nancy At Southern Lady for hosting Flaunt Your Red.